HOME
THE AUTHOR
MUSIC BOOKS
HISTORY BOOKS
THE BAND
CONTACT US

Music is central to the lives of Ed, Kai, Denise and Diana Whitcomb. Ed and Kai met in 1985 in Bangkok, Thailand, when Ed was playing Celtic fiddle music in a British pub. Within a month he was teaching Kai how to chord on the piano. The family has been making music together since the kids were old enough to sing.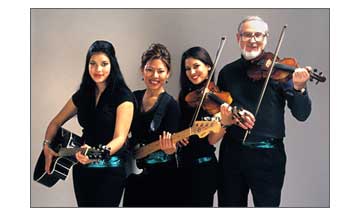 In high school Ed played guitar in a dance band. He has played with groups in Yugoslavia, Bangkok, Jakarta, Delhi, and Ottawa. At the age of 40 he took up the fiddle, and also plays piano and bass.
Kai plays bass, boghran, fiddle, piano, and flute. Denise is the lead singer and keyboard player, and back up on fiddle, guitar and bass. Diana is lead fiddle and banjo and back up on vocals and guitar. All four play the spoons and do Ottawa Valley step-dancing.
From C2C specializes in Canadian folk and Celtic music, both sing-along and toe-tapping. The Canadian music comes from all parts of Canada (hence the name From Sea to Sea), and souvenir song books are distributed. Ed often explains the types of music (reels, jigs) or the background to songs. For variety they do medleys of music from the Forties, Fifties and Sixties, the Caribbean, country and western, pop, and easy-listening.